BY PUJI SHERER, VP MARKETING AND CHIEF COLOR NERD
We are jumping on the painted pumpkin bandwagon! How could we not? Fall is our favorite time of year with its plethora of beautiful color and painting is our favorite DIY. I invited fellow Color Nerd Lynn Morgan over to my house in the north Portland neighborhood of St. Johns for a little pumpkin painting and some help creating a monochromatic fall mantel.
At one time, I said that our MAKE THIS: Rough Edge Wall was our simplest DIY ever. That is no longer true- this one is! All you need for this little project is a Colorspot, a few brushes, a good friend, some cool pumpkins, and white wine of course! We love Boulevard Estate's Genevieve from Dundee Hills, Oregon.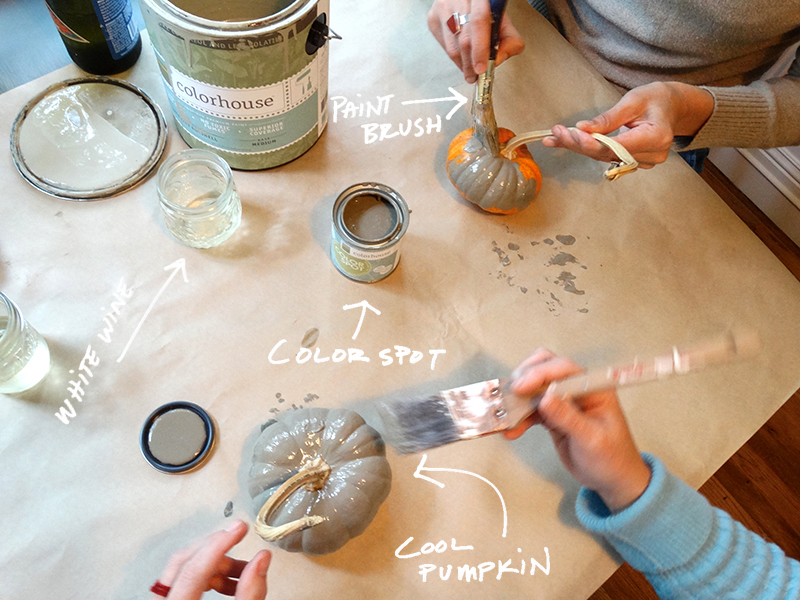 Ready for the instructions? Brace yourself: PAINT THE PUMPKINS. For our pumpkins, we chose STONE .06, just a tiny bit darker than my walls and trim painted in METAL .04. Using a neutral color scheme created a soft, monochromatic look on the mantel. We filled in the rest of the space with fall findings collected on my walks and added a color pop with my favorite Heath Ceramics vase. Voila! Time for a fire in the fireplace.