We have partnered with our friends at ACME Farms + Kitchen to bring you a COLORFUL summertime recipe – Tacos with Stone Fruit Salsa + Salmon!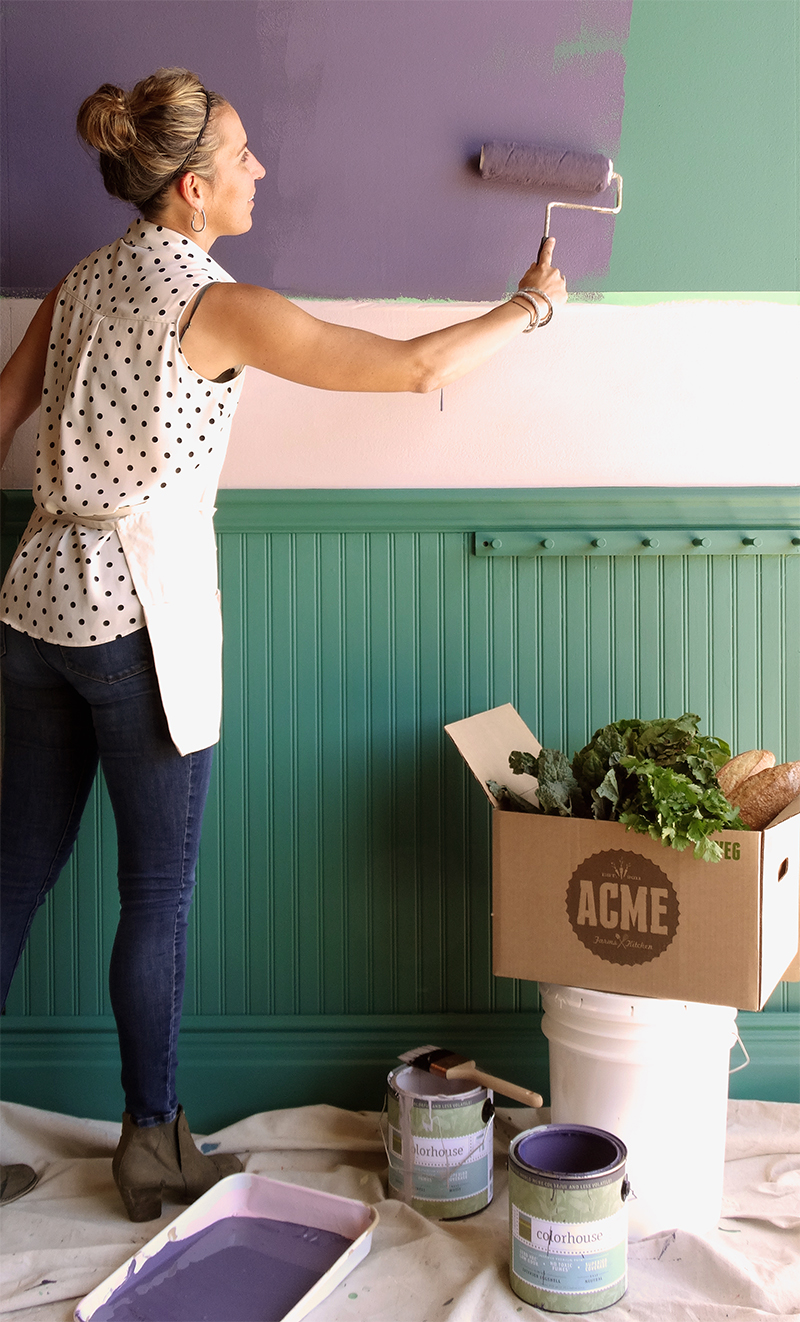 ACME Farms + Kitchen makes it simple to shop, cook, and eat local for Portland and Seattle-area residents. Delicious recipes and quality local ingredients from Pacific NW small producers are delivered to your doorstep each week.
Inspired by the secondary colors of the stone fruit salsa, we decided to paint our kitchen in various shades of purple, orange, and green.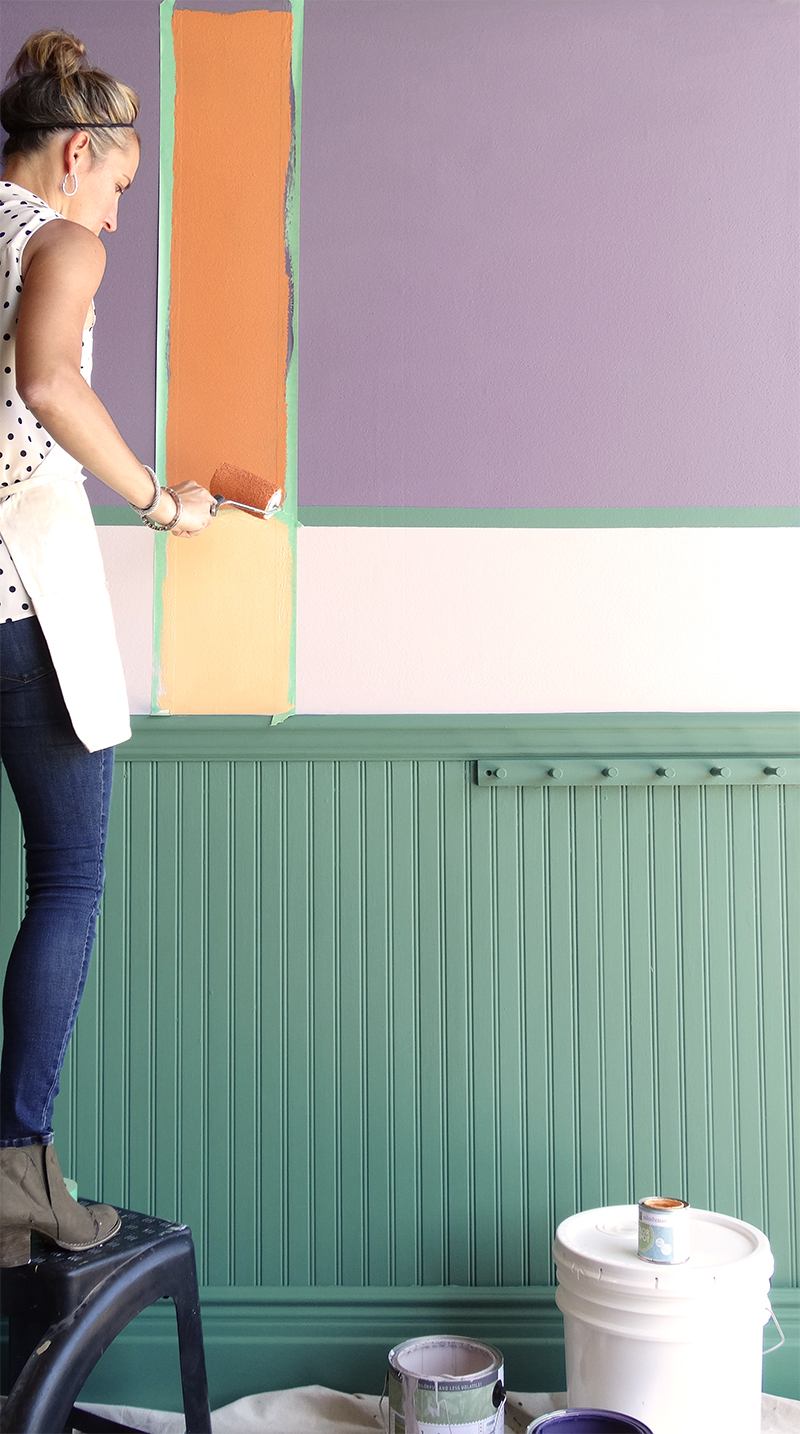 Using GLASS .05, THRIVE .04, CREATE .03, and WOOD .05, we created a color square pattern to be a colorful backdrop for this delicious summertime recipe.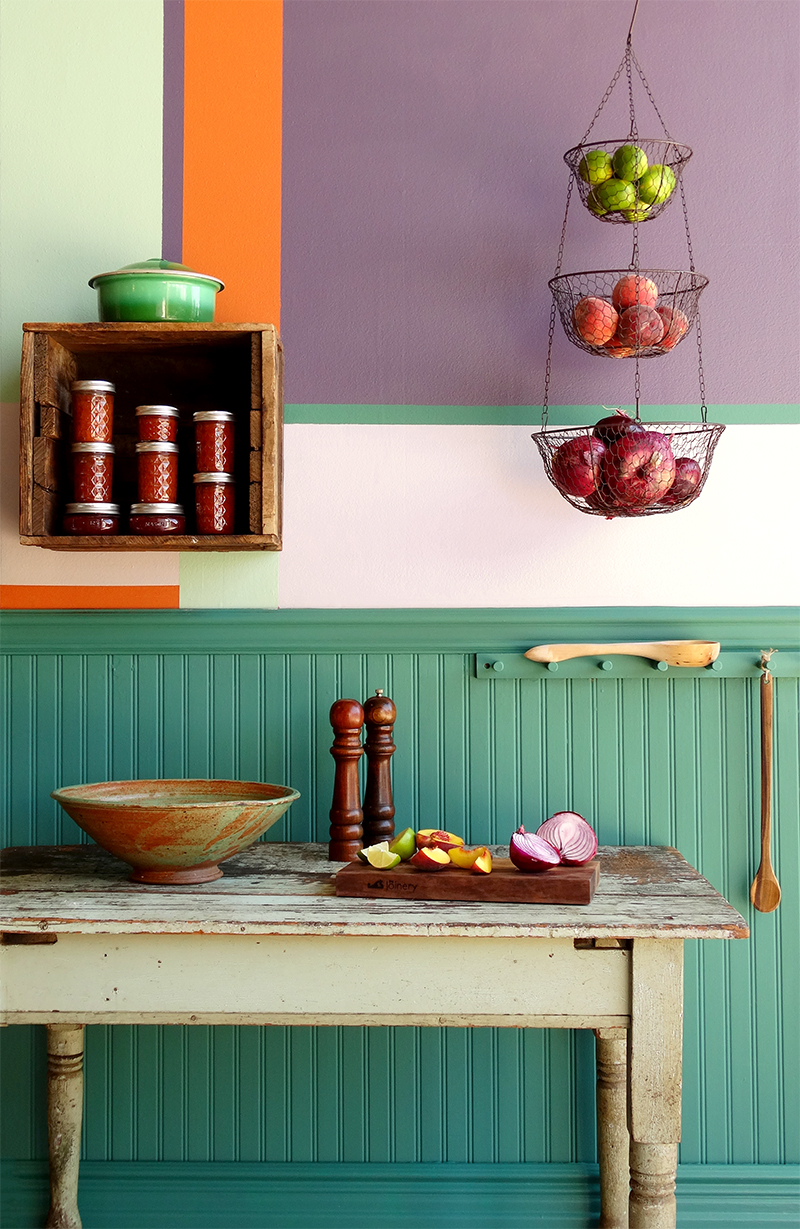 Get the deets below on how to make this yummy meal!
COLORFUL TACOS WITH STONE FRUIT SALSA + SALMON
by ACME Farms + Kitchen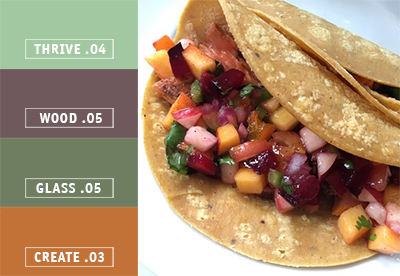 FOR THE STONE FRUIT SALSA:
2-3 tbsp finely minced red onion
Salt
2 tbsp freshly squeezed lime juice
1 tsp lime zest
1 tbsp honey
2 cups diced stone fruit (nectarines, peaches, plums, etc)
1 jalapeno, seeded if desired, finely diced
1⁄4 tsp chipotle powder or smoked paprika
1⁄4 cup chopped cilantro
Place the onion in a medium bowl and sprinkle with a few pinches of salt. Pour the lime juice over top and let rest 5 minutes. Stir in the honey and mix well. Add the chopped fruit to the bowl along with the jalapeno, lime zest and chipotle powder or paprika. Stir well and season with salt.
FOR THE SALMON TACOS:
1 lb wild salmon fillets
1⁄2 tsp chipotle powder or smoked paprika
1⁄2 tsp cumin
1⁄2 tsp salt
olive oil
warmed tortillas for serving
In a small bowl combine the chipotle powder or smoked paprika with the salt and cumin. Sprinkle mixture over the flesh of the salmon.
Heat 1 tbsp olive oil in a skillet over medium high heat until hot but not smoking. Add the salmon fillets skin side down. Cook, flipping once, until the fillets are opaque throughout. Remove from the pan, let rest 2 min., then ake the salmon into pieces. Fill the warmed tortillas with the salmon and top with salsa.